DC Congress 2014 Brings DC a Level Higher
30 January 2014
The first DC Congress "AC/DC: A matter of taste?" was organized by Direct Current B.V., Joulz, Siemens, Philips, TU Delft and Cigré.
Last update on
21 March 2022
Left: Mark Dierikx, General Director for Energy at the Ministry of Economic Affairs.
Right: Harry Stokman, CEO Direct Current b.v. and Chairman of the DC Foundation Netherlands.
Photo report of the DC Congress 2014: https://www.facebook.com/Gelijkstroom
Video impression of the first DC Congress 2014 on DC and DC grids in the Netherlands now and in the future: https://www.youtube.com/directcurrentbv/
Due to a big turnout, there was a broad diversity in the lines of work of the congress participants which offered sufficient and interesting interaction during the lectures and workshops. The various lines of works gave weight to the role of DC (direct current) in society and business. Present participants were from, amongst others, higher and university education, engineering students, government, network operators, energy suppliers, industry, shipbuilding and construction.
During the lectures, congres chairman Hester van Dijk, known from BNR Sustainability, involved the audience to highlight chances and opportunities for DC applications for medium and low voltage. In particular, on stage, she interviewed Harry Stokman from Direct Current b.v. and Chairman of the DC Foundation Netherlands personally, for him to showcase his vision on DC now and in the future, and his efforts to make this happen.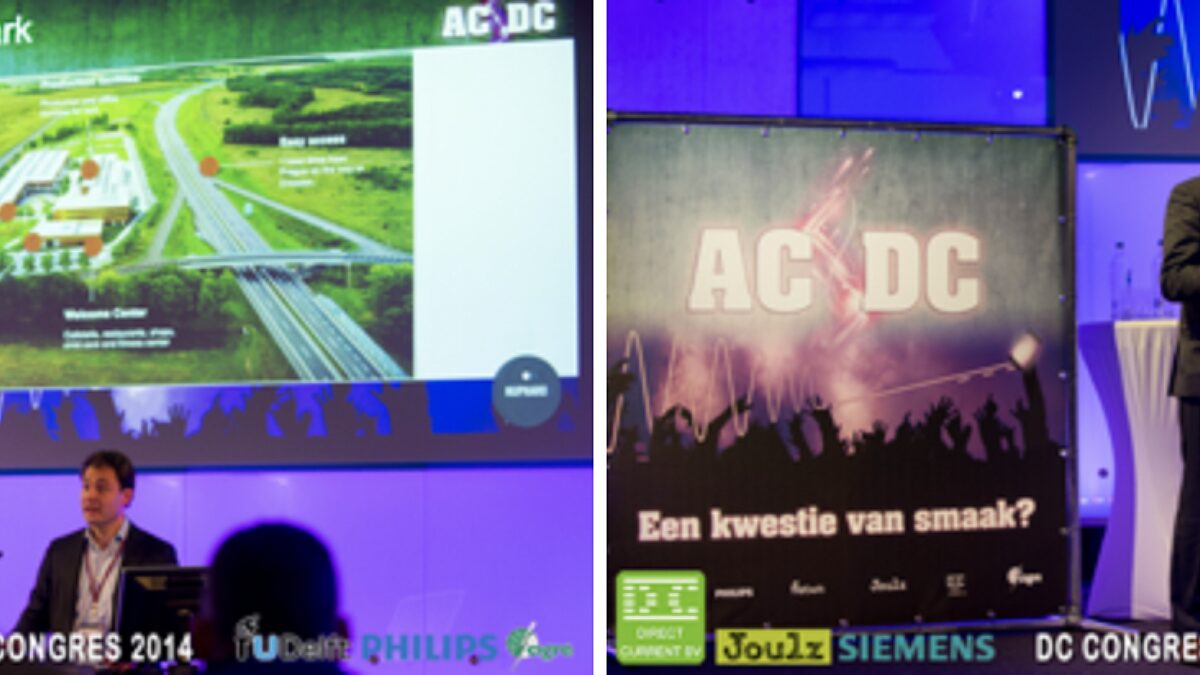 View
Left: Tim Zijderveld from Joulz on the Green Energy Nupharo Park in Czech. Right: TU Delft Professor Lou van der Sluis Here follows the DC Congress program for more information:
Program
Welcome by host Lou van der Sluis, professor at TU Delft, about AC vs DC, DC is a choice not a faith and developments in education.
Guest speaker Mark Dierikx, Director General for Energy, Telecom and Competition of the Ministry of Economic Affairs.
Guest speaker Farid Tabarki, director of Studio Zeitgeist, a columnist for The Financial News and Trend Watcher of the Year 2012-2013.
Peter Vaessen DNV GL (formerly Kema) takes you into the AC/DC transition that takes place internationally in the field of high voltage transmission. Includes topics such as security, efficiency, grid connection, and multi point connections.
Interview with Harry Stokman, CEO of Direct Current b.v. and Chairman DC Foundation Netherlands: New opportunities with current knowledge and technology.
Jan Langedijk, account manager TenneT at Siemens Netherlands: Current opportunities on the basis of pilot projects, including project Haarlemmermeer.
Ulrich Boeke, power electronic specialist and senior scientist at Philips Research in Eindhoven.
Tom de Vries from CityTec: What opportunities are there for DC in the field of public lighting: think of management, resource conservation, and maintenance.
Tim Zijderveld, business line manager at Joulz and Vice Chairman of the DC Foundation Netherlands, outlines the international ambitions of the Green Energy Campus Nupharo in Czech, a project in cooperation with Joulz and Direct Current b.v.
Ad van Wijk, Professor of Future Energy Systems at TU Delft, outlines the project of the Green Village, a living laboratory for innovative energy technologies. DC voltage will serve as one of the starting points .
DC Congress 2014 Workshops
Mobility & transport applications with Tim de Lange from Innosys Delft - Electric car today and the vision of the future. Current and future battery charge-related issues surrounding electric cars combined with DC networks.
Safety & standards - BS 1010 with Johan van Velthoven from NEN.
NL Innovations & commercialization with Olivier Maus Ongkiehong and Dieleman from the Government NL Agency - Energy Innovation Program - What can companies, research institutions and other new parties mean for businesses in the Netherlands: new services and products on DC, economic perspective, export potential? How do we activate the parties in this collaboration? How does this relate to the TKIs and RvO.nl? (Formerly NL Agency)
Power Grids with Peter Vaessen DNV GL (formerly Kema) - AC/DC transition in the field of high voltage transmission.
Public Lighting in DC with Jan Fitters from Philips Lighting and Tom de Vries from CityTec - DC supplies in public lighting savings in both energy and in terms of raw materials and maintenance. After a brief introduction, you will be invited to discuss the opportunities for and by applying voltage in public lighting.
Off-grid solutions with Jerry van Zundert from Current-Future: Which energy generators are suitable and which storage technique are the best choices? What are commercially sensible dimensions? And what are the export opportunities for businesses in the Netherlands?