Minister Verhagen signs Green Deal for project DC=DECENT
14 June 2012
With the Green Deal, the Government supports in terms of legislation the initiative of the three partnered companies, who jointly started this project named DC=Decent in order to build a test area for sustainable energy with DC in a horticultural area near Schiphol.

Last update on
01 February 2022
In The Bread Factory in Rijswijk, Minister Verhagen and State Secretary Atsma (of the Ministry of Economic Affairs, Agriculture, and Innovation) put their signatures under the new Green Deal with Direct Current BV, Siemens and Joulz. In the horticulture area Haarlemmermeer, the project DC=Decent is building the first dc grid in the Netherlands, with injection of renewable energy through solar panels and a CHP cogeneration system. The whole system makes it easier to exchange electricity between a number of connected gardeners and other connected generators and customers, such as charging stations for electric vehicles. "Thanks to DC a much better match is possible between supply and demand of energy. Excess energy may be stored in a battery system, and may be used at a later time. All in all, this will save energy up to thirty percent," said Harry Stokman of Direct Current BV and DC expert in the Netherlands.
130 Green Deals Signed Already
The agreement signed today with Direct Current BV, Siemens, and Joulz is part of the total of 130 Green Deals that the government has now closed with various parties. The deals are designed to provide impetus to economic growth combined with durability. The parties agree with each other on an objective and on what activities they undertake to achieve this goal. Green and growth go hand in hand. The Green Deal approach raises many dynamics. The effectiveness is evident both from the large number of new Green Deals, widening to other themes as from the first results of the previous round. Objective of the Government was to close 100 Green Deals in 2011 and 2012. This objective is largely met.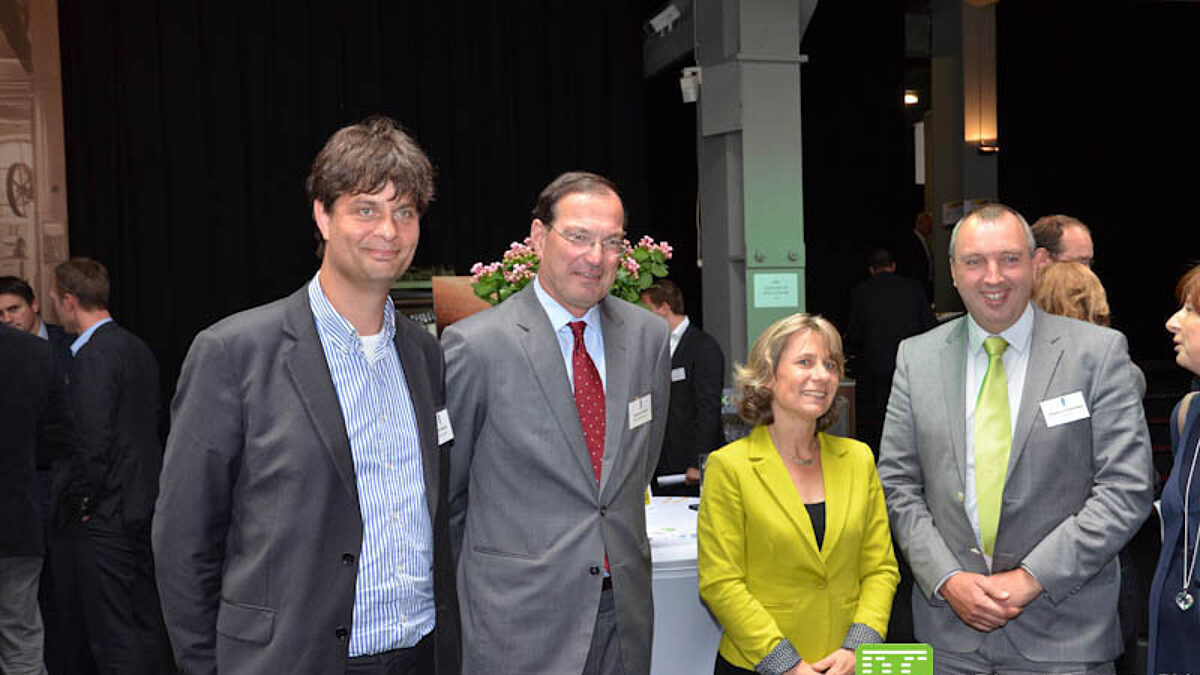 View
Project partners from left to right: Harry Stokman (Owner/CEO of Direct Current BV), Bernard C. Fortuyn (Board Siemens Netherlands), Joanne Meyboom (Director of GreenTec Joulz), Ronald Peperstraate (CEO of Joulz).
IPIN Project Decentralized DC Grid DC=DECENT
DC=Decent is one of the twelve test areas that are part of the Innovation Program Intelligent Networks (IPIN). An IPIN grant has already been awarded to the project DC=Decent. The IPIN program aims at accelerating the introduction of intelligent networks in the Netherlands in response to the increased energy consumption in the Netherlands and the current AC network that is insufficient to meet this increase. With the Green Deal, the companies and the government are comitted to to overcome all practical, legal and regulatory hurdles in order to build DC grids in the Netherlands.

About Direct Current BV
Direct Current BV is the driving force behind DC in the Netherlands and is specially established to enable a wider use of DC. Direct current BV has a team of DC specialists, led by Harry Stokman, engaged in development and innovation of DC converters and DC systems.

About Siemens
Siemens Netherlands, with sales of over 1.3 billion and 2,275 employees, is part of the multinational Siemens AG, represented in 200 countries. It provides products, systems and services in the field of electrical engineering and electronics for government and industry. Siemens offers the customer solutions in the field of Energy, Healthcare, Industry, Infrastructure & Cities.

About Joulz
Joulz, part of Eneco, specializes in energy infrastructure and is committed to technological innovation in the area of energy infrastructures. Joulz offers its customers a complete package of consulting, engineering, construction and management of sustainable energy infrastructures. Joulz operates with over 2,500 employees in the Netherlands, with offices in Rotterdam, Delft, Utrecht, Alblasserdam, Haarlem, Dokkum and Weert.